The Bobbin Birdie Flies to Iowa!
I hope that everyone is having a nice Valentine's Day - either celebrating it, ignoring it, or doing something delightfully un-Valentinesy, whatever your persuasion.
But what will the
red Bobbin Birdie
be doing, you might ask? She will be spending the evening packing her bags, for soon she will fly to her new human friend in the Midwest. I would like to announce that the winner of the
Valentine's Day Give-Away
and the recipient of the Birdie is Audrey W., whose submission I repost below: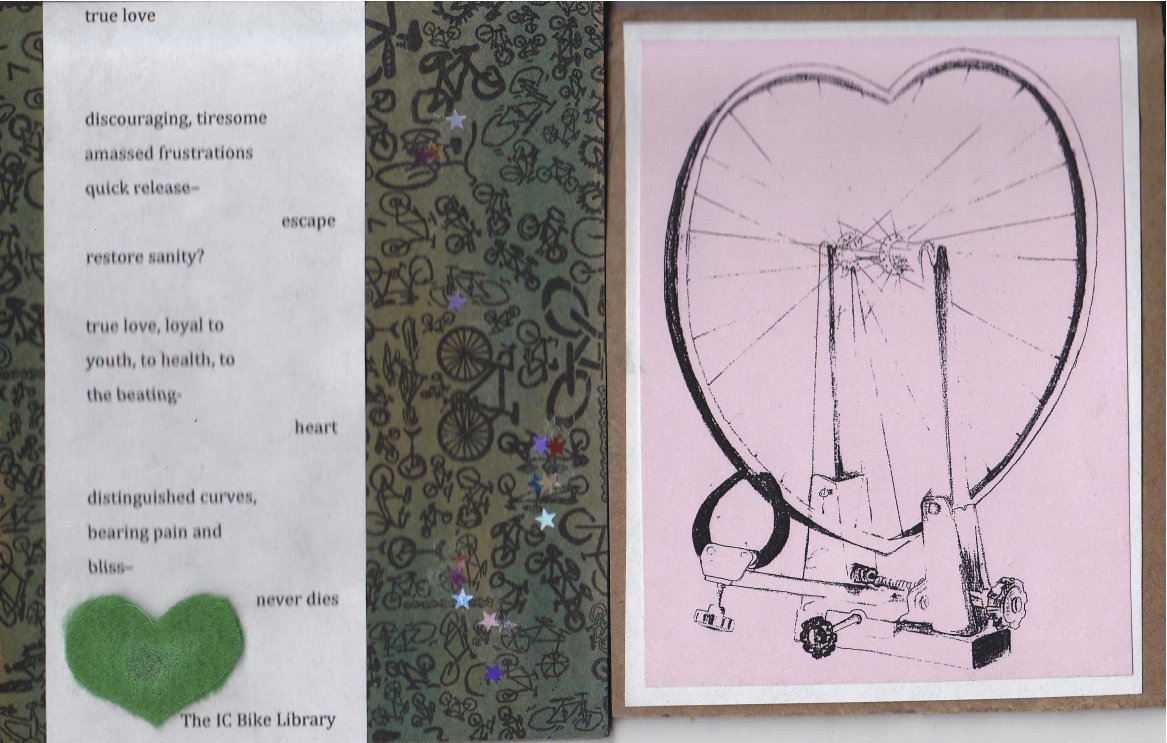 The photo is a little fuzzy, but a close look reveals details that struck me as both sweet and meaningful. On the right is a picture of a heart shaped wheel in a truing stand. And the poem on the left reads:
"true love

discouraging, tiresome
amassed frustrations
quick release–
escape
restore sanity?

true love, loyal to
youth, to health, to
the beating-
heart

celebrating curves,
bearing pain and
bliss–
eternal"
Though not as sleek in presentation as some of the other entries, the impact of Audrey's card stayed with me, and many readers reported the same effect in their feedback.
Audrey is involved in
the Bike Library
in Iowa City, where she and the Birdie should feel right at home as a couple. Please join me in congratulating Audrey on her new bicycle!
I would like to thank everyone who submitted their poetry and art for this give-away (see the 15 finalists
here
). Your work brought joy to lots of readers, and I hope there is some satisfaction in that. Thank you also to those who gave feedback about their favourite entries; I read all the comments and they definitely influenced my decision. Finally, I would like to express my appreciation to the fellows at
Forth Floor
- the North American distributor of
Bobbin Bicycles -
for sponsoring this give-away with no stipulations or strings attached. As always, thank you everyone for reading, and a lovely evening to all!