In Absentia: Boston Velo Sightings
My thoughtful Co-Habitant has sent me some photos of lovely bicycles that he took while I've been away: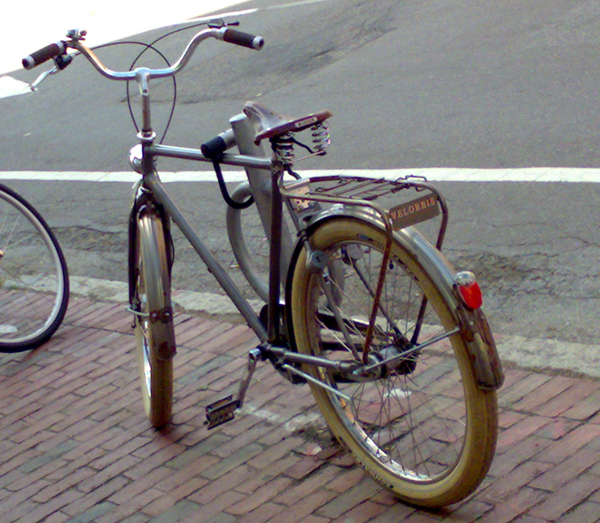 Velorbis Scrap Deluxe
, spotted in the wild in Cambridge, Mass.! This bicycle is absolutely gorgeous, and I especially love the pairing of the silver frame with the cream tires and the warm brown leather of the saddle and grips. I like a bicycle that will look good when dirty. This one looks
great
dirty! One question however: Is that
rust
on the fenders and rack?..
Edited to add
: a reader forwarded me an email with the following message from
Velorbis:
"The bicycle in question is a Scrap Deluxe limited edition we made in 2007 WITHOUT any rust protection nor
powder coating
hence the name scrap deluxe. It was an intentional design and it was meant to rust to give it a 'scrap' look. We quickly realized that people didn't get it and we quickly reverted to rust protection and powder coating of all our models in 2007 so today you will not have any issues with rust on your bicycle from Velorbis." Hope this response on their part is helpful to those wondering about rust.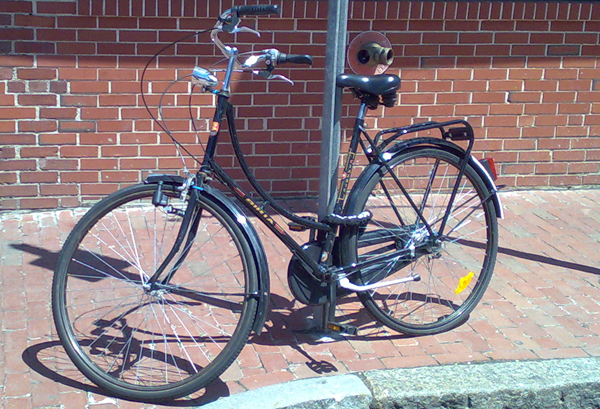 Here we have a Biria Classic, parked in Harvard Square. A very stylish bicycle that can be had for a fraction of the price of imported Dutch bikes.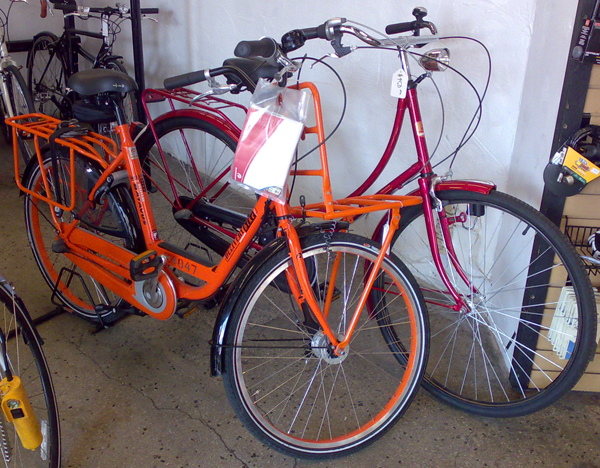 And the same Biria Classic, only in red, for sale at Cambridge Bicycles. The price tag says $450. Next to the Biria is an orange Batavus transport bike. Very cool, and I bet that stands out in traffic!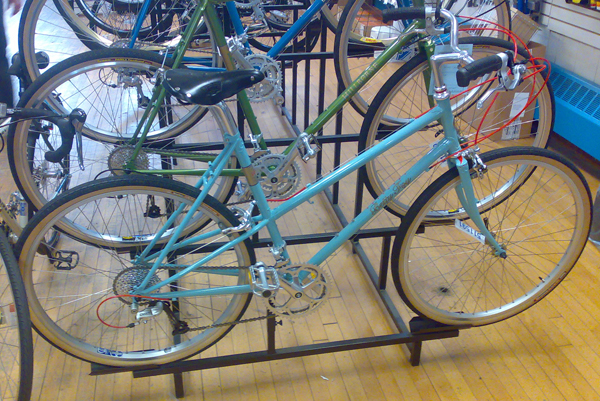 And what do we have here? Yes, it's is the Rivendell Betty Foy, casually displayed at Harris Cyclery. Each Betty Foy is finished according to customer specification, and it is interesting to see the differences between the floor model at Harris and
Dottie's beloved Betty
at
Let's Go Ride a Bike
. I like Ms. Foy best when she is fitted with fenders, a rear rack, and brown leather saddle and grips -- but I absolutely love the red brake cables that Harris put on her; they are the perfect touch!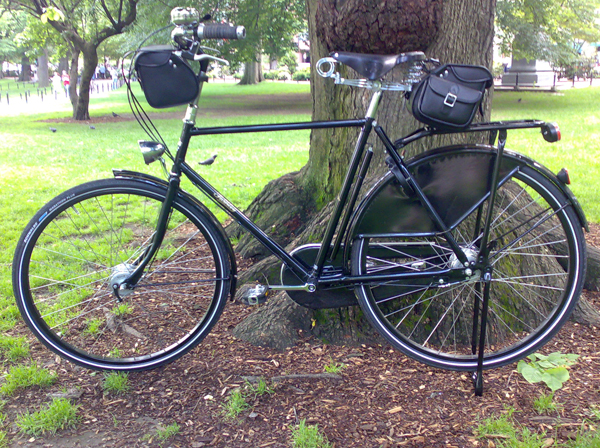 And finally, here is my Co-Habitant's Pashley Roadster again, in the glorious greenery of Boston Commons!