Manufacturer Profiles
I have written up brief profiles of today's best known manufacturers of
traditional bicycles for everyday transportation
. I hope that this will be helpful to those trying to acquaint themselves with what is available out there. For a list of budget manufacturers, please
see here
. Bespoke frame builders are not included here.
in alphabetical order: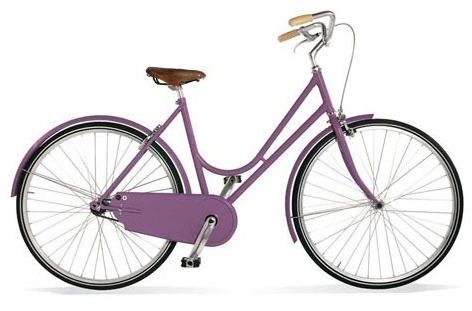 [image via abici-italia.it]
ABICI
(IT)
ABICI is an Italian company that was formed in 2006 and derives its inspiration from "old 50's catalogues of an Italian artisan." ABICI bicycles are handmade in Italy and are available in stylish colours such as mil spec green, powder blue, and rust. Pictured here is the Granturismo model; an enclosed chain is available on the Amante model. Prices start at $890.
[image via achielle.be]

Achielle
(BE)
A Belgian manufacturer since 1946, Achielle produces a wide variety of "vintage and nostalgic" bicycles, including Oma/Opa, transport, Z frame, and "priest" models. Achielle are still 100% made in Belgium, and are available with nearly infinite customization and add-on options from the factory. Visit the US distributor
here
. Prices are in the $1,000's.
[image via workcycles.com]
Azor
/
Workcycles
(NL)
Azor bicycles are produced in
Hoogeveen
, distributed by
Henry's Workcycles
, and imported in North America by
Dutch Bike Seattle
. Azor makes classic "Oma" and "Opa" frames, as well as work and transport bicycles. Prices are in the $1,000s.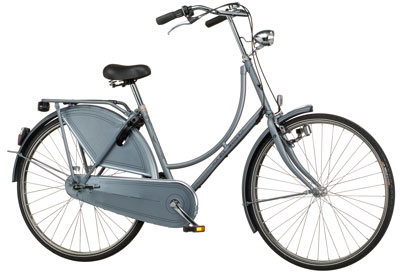 [image via bikeportland.org]
Batavus
(NL)
Like Gazelle, Batavus is a classic Dutch brand. It was founded in 1904, but is now owned by the
Accel Group
European Cycle conglomerate. Prices for the Old Dutch models start in the $700s.
Bella Ciao
(DE/IT)
Bella Ciao is a new manufacturer based in Germany. These bicycles are handbuilt in Italy using light tubing, and are said to have sporty potential despite their lady-like looks. Prices are in the $1,000's.
Umberto Dei
(IT)
This small Italian manufacturer has been building bicycles since 1896, and continues to make them today is the same timeless style.
Dei
bicycles are heavy-duty Italian city bikes, equipped with fenders, chaincases, woven dressguards, racks and bottle generator lighting. Aesthetically, they evoke the art deco style and display the sort of artistic flourishes that are no longer seen on most contemporary bicycles. Prices are in the mid-$1,000s - $2,000.
[image via gazelle.nl]
Gazelle
(NL)
Gazelle has been manufacturing bicycles since 1892 and is currently the largest bike manufacturer in the Netherlands. On their 100 year anniversary, the company was classified as the "Royal" Gazelle by Princess Margriet. The Basic and Toer Populair models include full chaincases and dynamo lighting. Prices start at $850.
[image via jclindbikes.com]
Gouden Leeuw
(NL)
A 40-year old Dutch bicycle manufacturer based in Valkenswaard, NL, now imported by
J.C. Lind
Bikes in Chicago. Models include full chaincase, dress guards and rear rack. Prices start at $950.
[image via jorgandolif.com]

Jorg&Olif
(BE/CA)
The Van Couver -based Jorg&Olif imports bicycles from the Belgian manufacturer
Achielle.
The popular "Scout" model gained recognition in the US after it appeared in a J. Crew catalog. Prices are in the $1,000s.
[image via AdelineAdeline]
Paper Bicycle
(UK)
A small manufacturer in Scotland,
Paper Bicycle
began when designer Nick Lobnitz developed a bicycle for the
Royal Mail
. The design has since been transformed into a model for personal use, available as a single speed or 8 speed with fenders and chaincase. Built by hand in Scotland, these bicycles feature a unique frame construction with a single step-through tube and no seat tube. Prices start at around $1,000.
[image via britishbicycle.com]
Pashley
(UK)
Pashley has been making traditional bicycles since 1926, specialising in work bicycles and classic English roadsters. Pashley bicycles are handbuilt at their facilities in Stratford-upon-Avon. The Princess Sovereign model includes a full chaincase and dynamo-powered headlight. Prices are in the $1,000s.
[image via pilencykel.se]
Pilen
(SE)
Pilen Cycles is a small, family-run company based in Smaland, Sweden, that has been in operation since 1998. The bicycles are hardy utility bikes, with welded "Swan" frames, lugged crown forks, proprietary rear racks and dynamo lighting included. In North America,
Pilen
is imported by
Boxcyles
. Prices in the $1,000s.
Retrovelo
(DE)
Retrovelo is a manufacturer in Leipzig that began producing bicycles in 2003. Retrovelo bicycles are said to be mountain bikes dressed up as leisure bikes. Equipped with Schwalbe balloon tires and "first generation mountain bike" elements, these beautiful monsters are said to handle any terrain, while looking glamorous in colours such as olive, ivory, dusty rose, grass green, stone gray, and dove blue. Prices start at $1,500 for the 3-speed models.
[image via skeppshultbikes.com]
Skeppshult (SE)
Skeppshult has been producing classic bicycles in Sweden since the turn of the 20th Century, specialising in commuter bicycles. Skeppshult has been awarded a royal warrant by the King of Sweden - a distinction given to companies that embody the standard of superior quality and workmanship in Swedish design. The ladies' Nature model is the most similar to the classic relaxed-style bicycle. Prices are in the $1,000s.
Velorbis
(DE/DK)
Velorbis bicycles are designed in Denmark and produced in Germany. I am not able to find exact information regarding when the company was founded, but it seems to be 2004. Velorbis makes a classic transport bicycle range, including some models with baloon tires. Prices are in the $1,000s.