Beyond Mozie-ing Around: a Californian Dutch Bike Visits Ireland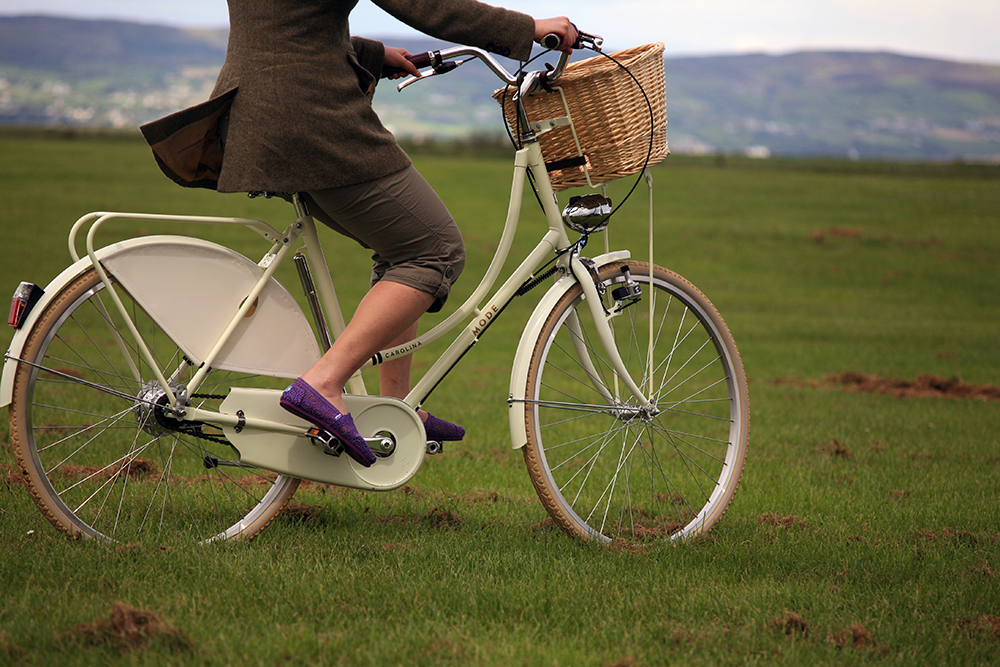 At the time of writing this review, I do not think it unfair to say that the Dutch bike craze in North America has come and gone. When the bicycles first appeared on the scene around 2008, they were a source of fascination. The concept of the Dutch bike inspired us with images of carefree, relaxed, un-athletic cycling - of bicycles that allowed the rider to sit bolt-upright, "as if in a chair," while effortlessly floating along, groceries or toddlers casually in tow. With these machines came the promise of a dignified, utilitarian and (dare I say it?) fashionable means for ordinary people to ride a bicycle for transportation without changing the way they dressed.
But as nice as it all sounded in theory, in practice it didn't stick. Routinely, those North Americans who had purchased Dutch bikes discovered that conditions where they lived were too hilly to make these lovely machines practical. Or too windy. Or the distances were too long. Or the car traffic called for more nimble and aggressive handling. So they made adjustments to their Dutch bikes, attempting to lighten them, and to install lower gearing, and to lower the handlebars, before - more often than not - ultimately switching to a different style of bicycle. As the transportation cycling culture in the US grew, a preference emerged for machines that - while still relatively upright and fitted with utilitarian accessories - were of a lighter, sportier, more compact nature than the prototypical Dutch bike.
Which is all well and good and fascinating to observe. But which also made it surprising, I thought, that a company in California was now launching a new, Dutch-style line of bicycles and was offering me to test one for a long-term review. And this, despite my having moved to rural Ireland - where conditions were even hillier, windier, longer-distancier, and altogether less welcoming for a bike of this sort. I pointed all of this out to the nice Californian company. But they were keen to subject their bike to my testing anyhow. And so, all through the summer of 2014 I cruised the hilly, draggy country roads of the Roe Valley on a
Mozie Carolina bicycle
.
Described as having been "inspired by the rich bicycle culture of regions such as Holland and Denmark," the Mozie does indeed resemble the bicycles one is likely to see on the streets of Amsterdam and Copenhagen.
From the deeply curving loop frame and the swept-back handlebars, to the hefty rear rack, fenders, dress-guards,
chaincase, hub gears,
wicker basket,
big fat tires,
and even bottle dynamo-driven lighting.
With its lugged cream frame and cream tires, the Carolina is a very pretty bicycle. ("And very Californian looking!" in the opinion of a few Irish friends.)
This is nicely complemented by a reddish-brown leather saddle and matching grips. Labeled Buck & Wing, these appear to be an in-house brand of Mozie.
While the ergo-style shape of the grips is not really my thing, I do like the saddle - which is just the right width and firmness for the Carolina.
The Carolina's proportions resemble those of many Dutch and Danish bikes I have seen. Though in photos this bicycle has a diminutive look to it, it is actually quite large - with a 54cm x 57cm frame hoisted up on 700C wheels with 38mm tires. As you can tell by the saddle's position, I am at the shorter end of the spectrum as far as fitting this bike - and I am just under 5'7".
Having my saddle set so low meant that even with the handlebars in their lowest possible position (considering that room had to be allowed for the basket), proportionally they would still sit extremely high for me, which made me a bit apprehensive. Even on the
genuinely Dutch Gazelle I once owned
, I had eventually pushed the bars down a tad to give myself some lean. Because, to be honest, even for flat, urban riding, the bolt-upright position had never been quite to my taste. On a bicycle, "sitting as if in a chair" just never felt as nice as it sounded.
Until now that is. Though I am always weary of over-praising bicycles I have been given to review, I have to say the Mozie is amazing if only for the simple fact it feels "right" ridden in the bolt-upright position it was intended for. What I mean is, that I have ridden other bicycles designed to be set up in this manner, but always felt compelled to lower the handlebars. The Mozie is the first Dutch-style bicycle I've tried where the "sitting as if in a chair" thing actually worked for me.
Not only does the position in itself feel comfortable, but the bicycle is surprisingly maneuverable - accelerating quickly and moving nimbly through tight and tricky spaces - all while sitting back and relaxing in the saddle. In case I were imagining how great the handling was, I asked an experienced roadie friend to try it, as well as his equally sporty daughter - saying nothing to them about my own impressions. Both immediately began to perform tricks on the bike, marveling at how responsive the handling was compared to other "tanks" they've tried. Then the farmer next door had a go, and immediately began to ride the Mozie backwards. It's the kind of bike that makes you want to do that sort of thing. Despite its 48lb weight, the Mozie is far from sluggish or heavy-going.
Having arrived on the Mozie to the nearby airfield one day, it proved a great hit with the pilots as well. The boys began racing it along the airfield, impressed at how quickly it rolled along the soft, post-rain soil and thick grass... even when carting each other around on the rear rack. For reference, the man in the photo weighs 185lb - in his own words, a "big, heavy lump." The rack did't even flinch.
Aside from the handling, what I love about this bike is the low bottom bracket, allowing for perfect leg extension in motion,
as well as for putting a foot down when stopped. Furthermore, there is no toe overlap. And the ride quality over bad roads is as cushy as one would expect from a Dutch-style machine. There may be no cobblestones on the farm lanes, but there are pot holes and washboard stretches aplenty.
In the course of the testing period, I routinely used the Mozie for up to 10 mile trips into the nearby towns. Although these routes are "easy" by local standards, they are nonetheless not what you might call Dutch bike-friendly - featuring some rolling hills, as well as a couple of decent climbs. Despite its weight and upright positioning, the Mozie handled the rollers excellently, retaining its downhill momentum well enough to coast up a good part of the next climb. Even prolonged hills were tolerable - so much so that I did not really need the two lowest gears of the Shimano 7-speed hub. Though the bike was slower than the machines I typically ride here, it did deliver me into the town without much hassle, in a relaxed and civilised manner.
As far as the rural Irish landscape, the Mozie's only weakness really is the wind. On a windy day (and I am talking 20mph+ here), the bike becomes difficult and unpleasant to ride, even if I crouch down low over the handlebars with bent elbows. Other than that, it handles the local terrain better than I would in a million years have expected from a bicycle of this kind. I can only imagine how nicely the Mozie handles in a relatively flat urban environment such as my former Boston home.
To what do I attribute the Mozie's ease of handling? Honestly, I do not know. I've had a look at the bicycle's geometry chart (which I've been asked to keep confidential) and cannot find anything unusual about it. High trail, relaxed angles, long chainstays, low bottom bracket. Give and take a couple of millimeters here and a couple of degrees there, it is typical Dutch bike geometry, with the exception of the low bottom bracket. I suppose that sometimes a combination of llittle things - whether deliberately or accidentally - can make a difference. And of course, the tubing - described simply as "steel" - can be a contributing factor as well. Whatever Mozie did to make the massive Carolina so light-handling, from conversations with them I get the feeling they might themselves not know exactly. Nonetheless, they realise from both mine and their first customers' feedback, that they might just have gotten it right.
Impressed as I am with the Mozie's handling, the demo version I test rode was not beyond criticism. The tail light is battery operated and not integrated with the dynamo system, which is a shame. And the straps provided for the rear rack were mainly decorative, as I discovered when my bag flew off into the hedges whilst I was in motion! The clips used to secure the dress guards would sometimes slip down when going over bumps, leaving the dressguards loose to go into the spokes.
The halogen headlight was very weak and had no stand light - a no-no for traveling on unlit roads. The front wheel stabiliser was of the cheaper variety that did not really "work" as such. And the unicrown fork (sorry, but I can't help myself)... While there is nothing wrong with it technically, to my eye it looks out of place on a frameset that is otherwise so deliberately and beautifully lugged.
To be fair, Mozie tells me that my accessory-related complaints either can be, or might already have been addressed. And a special edition of the Carolina with a brazed fork crown could be available for anyone interested.
On another positive note, the Carolina's front basket is well thought out, rather than being an afterthought, and comes with its own front rack - attached, decalleur-style, to the headset. This setup is very stable. The basket stays firmly in place, and even with a heavy load of groceries the handling is absolutely fine.
After testing the Mozie Carolina for a couple of months, I gave it away to a neighbour in need of a bicycle. This neighbour - whom I shall call Lady M. - had been wishing for a bicycle to take her on short trips to the nearby shops, as well as to visit friends and family some miles down the road. She is now very pleased with her exotically Californian bike, and makes frequent use of the basket.
Having used the Mozie through the winter, storing it either in her open garage or outdoors in the course of that time, Lady M. additionally reports that the bicycle is quite durable and weather resistant, requiring little maintenance despite the rainy, muddy, saltwatery conditions we live in. Having looked at the bike after a winter's use, I can confirm this - there is hardly any rust and the machine remains in great condition.
The Mozie Carolina is an intriguing addition to the post-Dutch bike craze transport bike scene in North America. It would make a fantastic bicycle for someone who loves the idea of a Dutch style city bike, but has found the ones they have tried unwieldy. For a bolt-upright bicycle, the Mozie's handling is hard to beat if you ask me, and I only wish their marketing literature stressed that more. There are lots of beautiful, fashionable Dutch-style bicycles around after all, but what makes this one special is how it rides.
Mozie bicycles are made in China, by a Taiwanese manufacturer with whom the company has a personal relationship, and who specialises in small batch production. The Carolina is available for a sale price of $1,299 at the moment, which some still might consider too high. Admittedly, for a bike in this price bracket it would be nice to get: an LED light with standlight, a dyno-integrated tail light, and better attention to accessory details (i.e. ensuring the straps for the rear rack, the dress guard clips, and the wheel stabiliser are of higher quality). As far as aesthetics, I would also love to see a fork crown matching the rest of the frameset. If Mozie can make that happen (and perhaps get the special edition manufactured by
these guys
in Detroit to boot?) I might just buy a Carolina for myself.
I thank Mozie for the opportunity to test ride and provide feedback on this bicycle, and for donating their demo bike to a local - who loves it and uses it regularly.
Mozie bicycles
can be ordered through their website, and are coming to a variety of shops shortly.
See here
for a full picture set of the Carolina.