Studded Tires in March: A Cross-Atlantic Seasonal Summary
"You do not realise how good you have it there," I was warned as I packed for my flight apprehensively. And in a sense they all had a point: My current appreciation of springtime in Ireland is certainly enhanced by having spent the first half of March back in Boston, immersed in the sort of deep winter one might expect in January - and even then, only once in a great while. It was the sort of winter you'd tell your great-grandchildren about. And they would roll their eyes behind your back - because they'd only half-believe what you were telling them, and because you'd tell the goddamn story so many times. "It was a terrible, formidable winter indeed!..."
It was a winter that now stretched into March, ready to embrace me with its frigid open arms. Our landing was delayed at Boston Logan, the airplane forced to circle aimlessly while the runway was hectically shoveled
again,
as fresh snow had already covered it since the previous shoveling.
But I was well prepared for what awaited me. I had watched enough news footage to expect the solidly frozen river, and the roads encrusted with gritty hard snow.
I had heard enough complaints from friends to brace myself for the freezing temperatures.
I had seen enough photos to anticipate having to make my way along tunnel-like sidewalks carved through snowbanks taller than me in height, seeing nothing around but walls of white, till it came time to cross the street.
All of this made me resign myself in advance to a stay that would not involve cycling. I'm a reasonable person, you see. And it's not all about the bike, after all.
But less than a day after my arrival a couple of things made me change my mind. First, seeing other cyclists out on the roads. Not many, but enough to suggest that I could probably handle it also. But what really hastened my resolve, was an attempt to take public transportation. Freshly off the proverbial boat, my first morning back I naively boarded an MBTA vehicle in hopes that it might deliver me roughly where and when its itinerary suggested it would. I prefer not to go into the details of what happened instead, other than to say it made me renew my pledge to never set foot inside one of these vehicles again.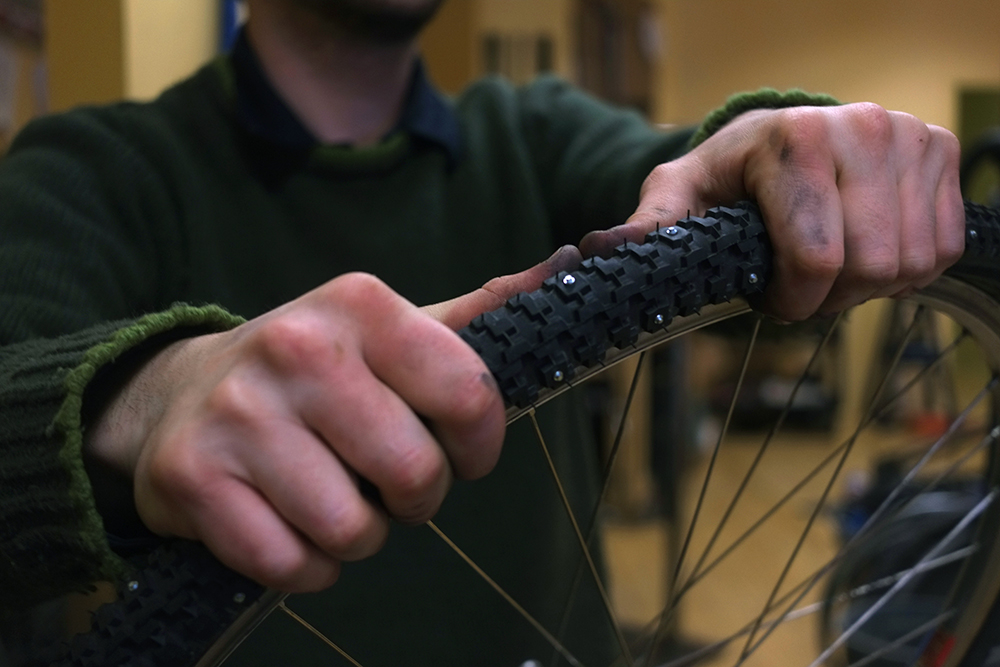 Still reeling from the trauma of the MBTA experience, I stumbled into
HUB Bicycle
in Inman Square, where some of my bikey things sit in storage in my absence (this is a service they offer, FYI).
"Maybe I'll take my city bike while I'm here," I said, "though I'm not sure how much riding I'll actually do given these conditions."
And just as the lonely machine was retrieved out of storage I saw something dangling off its handlebars that I had all but forgotten I owned: a pair of studded tires! The universe had spoken.
So... wow, studded tires, eh?
No, really, I mean
wow
, studded tires - they are fantastic! I want to say that I'm an idiot for not having tried them sooner. But to be fair, none of the winters I'd lived through in Boston previously were actually bad enough to warrant them.
In fact I bought these tires before the winter of 2012 in case I would need them, but never had occasion to use them. They are Nokian Hakkapelitta 650B Studded Tires
from Harris Cyclery
(not currently listed in this size, but will be available again in time for next winter I'm sure).
Nokian Hakkapelitta tires are made in Finland, have been around for decades, and have an excellent reputation. The 650B A10 model was recommended to me specifically, for being a convenient fit for bikes that otherwise sport 650B Grand Bois Hetres. Despite being described as 40mm in width, the 650B Hakkapelittas measure closer to 36mm. This still makes for a reasonably wide tire, while providing the additional benefit of greater under-the-fender clearance - useful for avoiding snow buildup in winter.
To accommodate different road conditions, studded tires are offered in varying degrees of studliness. The 650B Hakkapelittas are not a monstrous tire. Their tread and 74 carbide studs are designed for low rolling resistance. Still, they promise "incredible traction on snow and ice."
As far as traction goes, I felt the difference between these and regular tires most keenly over ice and the crusty/ uneven slippery type of hard snow. Normally these are conditions in which I would feel least comfortable cycling, but with the studded tires I hardly noticed. The tires are excellent on hard packed, even snow surfaces as well - its just that as I have no problem riding on hard packed snow on normal tires, I am less impressed with that feature. And as far as soft, deep and slushy snow, I'm not sure there was any different at all: With the studded tires, my bike fishtailed just like always in these conditions.
However, the tires served me well in situations where the slush or deep snow (or, later, water) concealed dangerous icy layers.
On pavement free of snow and ice, the studs made a distinct humming noise but did not feel annoyingly draggy. I was aware of being
a bit
slower with them than I'd normally be on the same bicycle, but that was to be expected. As was to be expected, the ride feel of the Hakkapelittas was also noticeably harsher than on the plush Grand Bois Hetres. But it wasn't too bad, and in fact not that different from many standard (non-studded) city tires. It's just that the Grand Bois Hetres do tend to spoil the rider with their exceptional comfort, so that almost anything else feels "harsher" in comparison.
More than anything, riding on studded tires was just exceptionally exciting, as I had never tried them for any serious length of time before. It was doubly exciting to have so much freedom to roam all over the city and its outskirts despite the poor road conditions. Even when I cycled on plowed city streets, there were often unexpected stretches of ice, especially in the evenings, and not having to worry about this in traffic was liberating. Whenever I come back to Boston, my days are filled with constant administrative tasks and work projects, scheduled tightly and located all over the place. Reliable transportation is crucial, and thanks to the studded tires my bike was exactly that.
Funny enough, my biggest problem was not riding my bike but parking it. Most bicycle racks, parking meters, poles, chainlink fences, and similar, were inaccessible due to the tall snowbanks, forcing creative methods of locking up.
As the snow began to melt this became even more problematic, as everyone's favourite method - hoisting the bike onto a snowbank and locking it to the bit of bike rack or parking meter peeking out - became increasingly unstable, the snowbanks diminishing and changing in form by the hour.
At times, only the option of having one's bicycle guarded by lions remained feasible - a situation the lions took advantage of immediately by charging a tidy sum for the service.
I had not expected to do any cycling in Boston, considering the snowfall and its effect on infrastructure. Instead I spent every day on my bike, racing between appointments, in a way that was ultimately not much different than it would have been in the summer. So even though I do appreciate the greenery and the sunshine of the Irish countryside, the overall effect of being back in Boston this time was rather the opposite: More than ever, I appreciate the ease with which one can zip through a well-designed mixed-traffic-use city, even in wintry conditions.
It took me two "mild" Irish winters of battling 40mph headwinds and 20% gradients, to truly arrive at that appreciation. But of course the grass is always greener. And the snow, always whiter.