Three Times a Lady: the Lives and Times of Modified Vintage Bikes
Last year I wrote about my ethereal friend
Clive
and his bicycle Lady Huck - a 1960s BSA roadster in a lovely dark shade of racing green. Sadly for me and her both, Clive moved back to New Zealand a few months back. Too costly to transport, Lady Huck was left behind in a shed. "What ever will become of her?" were Clive's tearful words as he boarded the steamship, Huckless.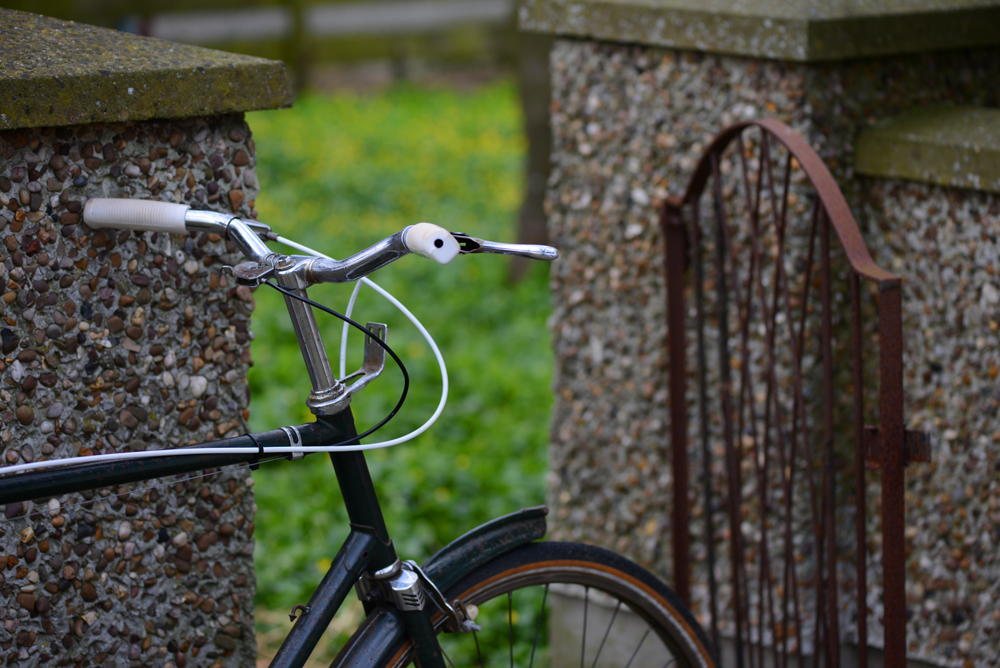 But fate has a way of bringing bikes and people together. For around this same time, my boyfriend (Wait, what?! Yes. Moving on now...) spoke those magic words I'd been longing to hear for months.
"Listen," he said, astride his rusty mountain bike, eying my Brompton thoughtfully. "Do you think I need mudguards and something over the chain? I keep getting my clothes dirty."
"Well," I said, as casually as possible, fantasies of him in tweed already running rampant. "If you don't mind an old bike, I know where we can get one with all of those things straight away."
"How old are we talking about here?" he asked suspiciously, recalling the non-functional rod brakes and decomposing tires on my Triumph.
"Oh don't worry, this one is years newer. You remember, Clive's green bike. It's practically cutting edge."
Several days later Lady Huck was under new ownership.
Because of their rise in popularity over the past years, there is now an interesting new category of vintage bicycles on the market: Those that, in addition to their original life span - and, possibly after several decades of languishing in a shed - have lived a second life in modern times.
Typically these bikes will have been cleaned and at least partly refurbished or modified. Deteriorated saddles, tires and grips may replaced with new ones.
Caked dirt and rust removed with diligence.
New cables and brake pads might be installed.
Perhaps the handlebars are swapped, the levers' position altered, or the gearing modified.
Or rod brakes replaced with calipers (though on this bike this was apparently done in the factory).
Sometimes the updates are dramatic. But even when they are subtle, the Second Life vintage bike will have a look to it that sets it apart from the untampered-with originals. And it's fun to try and spot all the little changes the contemporary owner had made. For those seeking the comfort and charm of a vintage bicycle with modern updates, some excellent deals can be had when these bikes are put up for sale by the second owner. On the other hand, there are those who derive pleasure from doing all the cleanup and mods themselves. My boyfriend is more in the latter category, but as Lady Huck needed a home he was happy to oblige.
The bicycle being functional and ready-to-ride also gives him a chance to decide whether he even likes vintage roadsters. Last time he rode one was as a child, before he got into
motocross
and road cycling, and that was decades ago. The geometry and handling are dramatically different from what he's used to ("the front wheel is miles away!"). But he loves the feel of the old Sturmey Archer hub and the upright position. And, riding the BSA down the busted-up farm lanes, he can't get over how cushy the bike feels over rough surfaces - better than a mountain bike with fatter tires.
The BSA is too big for me to try, so I cannot contribute any feedback, but I'm glad he's having some fun with it. His position needs tweaking I think, and the bike is screaming out for a large saddlebag… but I'll not interfere and see what he gets up to on his own accord.
Perhaps Lady Huck will stay just as she is, or perhaps she will be altered further. Either way, she has been given a 3rd chance at life.